We have two schools that "KAI'TO" and "ZUSHI Sea-Kayak School".
He is an instructor who will be taking care of you is an official recognized and certified instructor by ACA [American Canoe Association in USA].
Instructor Toshiyuki Nagaoke, along with many years of sea kayaking experience has received extensive training designed especially for sea kayaking instructor by ACA. Furthermore he often returns to United States to participate in further training in sea kayaking instructor maintenance education to maintain his instructor's certificate by ACA
Because safety is the most important factor, we only take out small group of people; therefore we can offer our services to various level of our client's need.
*He ia an author of " SEAKAYAKING TEXT-BOOK"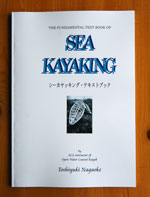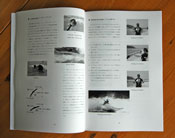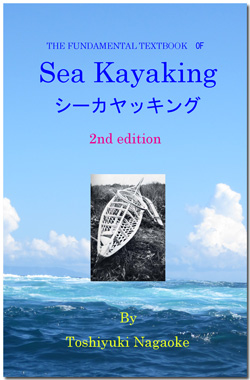 2nd edition was published on 2013 April

*Director, NPO KAISOJUKU (Sea Kayaking Academy)
*Authorized Expert Guide of Izu
*Promotional Member, Preservation of Marine Environment
*He participated in Surf-Kayak Fes. in CA Santa Cruz 2004.
*The world championship of Surf-Kayak in Costa Rica 2005.
*And also, the world cup of Surf-Kayak in CA Santa Cruz 2008.
Why do you need a school and a guide?
Because we play in the untamed natural sea and sea kayaking is a high risk sport. Therefore it is necessary to acquire techniques and basics knowledge of handling and maneuvering the sea kayak.
Our school will teach you all the techniques and basic knowledge you will need thoroughly to the first time sea kayaker.
Let us guide you and show you what we offer to you. Please click on the center photograph.
Happy Paddling !